Commercial Irrigation Systems
Think Water Auckland design, supply, install and maintain commercial-sized irrigation systems anywhere in greater Auckland – no job is too big.
Uses for our commercial and business irrigation systems include:
Lawn irrigation (golf courses, sports fields, horse arenas, etc.),
Watering artificial turf surfaces,
Vineyards and agricultural situations,
Business frontages and garden areas, and
Growing walls and green roofs.
Contact us for a free no obligation quotation today!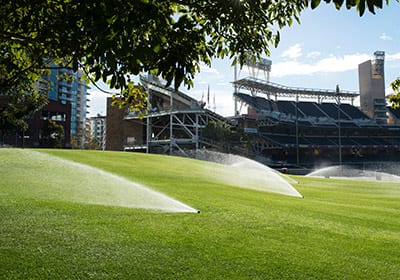 Types of Irrigation Systems
For large scale applications we recommend two main types of irrigation system:
Sprinkler systems, and
Drip irrigation or drip feed systems.
The most efficient type of irrigation system for your commercial property will depend on the size and shape of the area to be watered, the surface type, the amount of water required, and the type of planting to be watered. That's where the experience and expertise of the Think Water Auckland team comes in.
We'll design an irrigation system that provides maximum water with minimal water wastage.
We supply and install both manual and automatic irrigation systems but usually recommend an automatic system – the convenience makes the small extra cost well worthwhile; and we'll install a rainwater sensor so your irrigation system only activates when it's needed.
A Full Range of Home Irrigation Products
If you have your own landscaper, our display rooms at 217 Great South Road, Greenlane, carry a full range of high-quality, long-lasting, competitively priced products for commercial-sized irrigation systems.
Pop-up sprinkler heads
Drip irrigation systems
Irrigation controllers and sensors
Valve Boxes and Irrigation cable
Irrigation pipes and tubing
Irrigation fittings, and
Micro-irrigation systems.
Find out more about our equipment supply-only options Supply Only.
Find out more about having a Think Water Auckland irrigation system installed at your business or sports ground Contact Us.