Filter and Pump Installation and Replacement
Whatever size or type of water pump you have at your home or business, chances are Think Water Auckland has one to replace it – or, better still, we may be able to repair it. We service most brands of pump and filter, just give us a call Contact Us.
We supply, install, repair and maintain water pumps throughout the greater Auckland region for:
Water irrigation systems, including large sports grounds etc.,
Rainwater harvesting (rainwater collection) systems,
Water retention systems,
Rural property and bach water tanks,
Commercial water pumps and filters,
Residential water pumps and filters,
Spas and swimming pools, and
Every other possible use.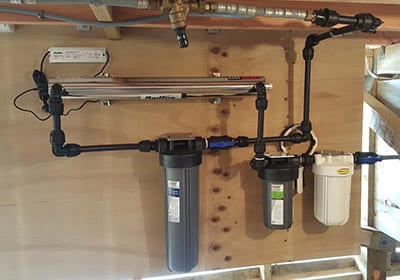 Davey Pumps and Grunfos Pumps
Because we only supply and install the best water pumps available, we recommend Davey Pumps and Grunfos Pumps.
Read more about the pumps we supply. Pump Systems
Puretec Filters
We stock the Puretec range of filter products, from basic under-the-bench filters to more complex UV filtration and purification units.
Read more about the filters we supply. Water Filtrations