Large-Scale Rainwater Harvesting
A rainwater system collects water that would otherwise be lost to stormwater drains, cleans it and stores it for irrigation and other purposes. It's great for the environment and has the potential to save your business thousands of dollars every year.
How a Think Water Rainwater Harvesting System Works
Simply by connecting your roof's downpipe to a collection tank, we harvest the free rainwater it collects.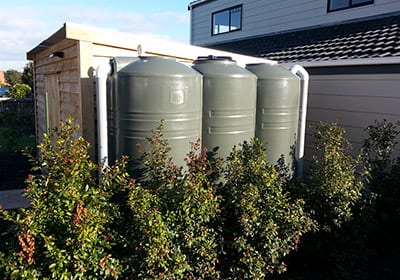 From there you can:
Use it to water your sports fields or business frontage,
Utilise the water from your roof for non-potable indoor use such as toilets, washing machines, etc.
Connect the water to exterior taps for washing purposes, or
Install a pump, filtration and UV treatment unit, to connect your rainwater harvesting system into your plumbing for use indoors.
And, for those dry summers, we have pumps that will detect when the tank level is low and automatically switch over to town supply.
In general resource consent is not required. A range of tank shapes and sizes is available, as are above or below ground options. It's well worth giving us a call to find out how much you could save.
Commercial Rainwater Harvesting
Our commercial rainwater harvesting systems include:
Storage tanks up to 30,000litres (for larger applications we can link tanks),
Full variable speed pumps for high volume requirements,
Computerised systems with remote monitoring,
Water filtration and chemical dosing units or UV purification,
Irrigation systems
Pool top-ups, and
Ongoing service and maintenance.
Find out more about how a Think Water Auckland rainwater harvesting system could save you money. Contact Us