Water Features In Your Home
Water features, fountains, ponds, water cascades and waterfalls are an easy way to liven up a garden area. They're relatively easy to install and provide the soothing relaxing sound of moving water. However, without a pump that water cannot move and your water feature is little more than a puddle!
Think Water Auckland supply water pumps and filtration units to bring your water feature life.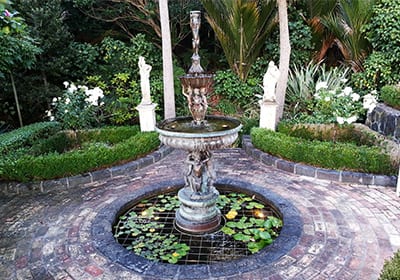 Pumps for Your Home Water Feature
Choosing the correct pump to suit your home water feature will save you both time and money. We offer a selection of pumps that will provide years of operation with minimal maintenance and low power consumption.
At Think Water Auckland, we stock pumps to suit any application from a simple waterfall to a large floating fountain.
We also stock fully submersible pumps.
The pumps we sell are specifically designed for outdoor use. They have:
Long, flexible power cables with sheathing appropriate for outdoors,
Are rated for continuous operation, and
Have passed all relevant safety standards.
Filtration for Your Home Water Feature
Whether it's a moving water feature or a static pond, if it's dirty or cloudy it just doesn't look right. A filter from Think Water Auckland will ensure your pond or water feature always looks great.
Installing the correct water filters will keep the water in your garden water feature clean and maintain its clarity. What's more, filtration will help create a suitable living environment for plants and fish.
We recommend you talk to us about your water feature pump and filtration needs before you build – that way we can give early advice on the proper size and type of pump and filter unit.
Find out more about the best pump and filter for your home water feature Contact Us.