Residential Rainwater Harvesting
A domestic rainwater collection system collects water that would otherwise be lost to stormwater drains, cleans it and stores it for garden irrigation and other purposes. It's great for the environment, adds value to your property, and has the potential to save you hundreds of dollars a year.
Install a Rainwater Harvesting System at Your Place
Only 3% of the water used by a typical Auckland household is for drinking or cooking – the vast amount of majority of the water you pay for gets flushed straight down the drain.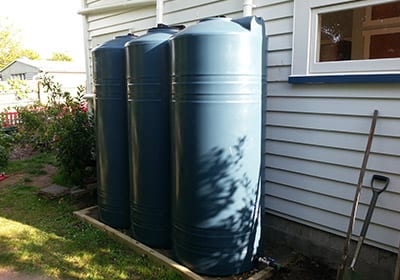 Why pay to use city water supplies when you can take advantage of a Think Water Auckland rainwater harvesting system and use the free water that lands on the roof of your property?
Many Think Water Auckland clients are surprised to discover how inexpensive and simple it is to install a rainwater harvesting system and how much difference it makes to monthly water bills. Depending on usage and the size of tank, a rainwater harvesting system can pay for itself within two to five years.
A Think Water Auckland rainwater harvesting system is:
Great for the environment,
A sure way to cut your water bills, and
Ensures you have a continuous supply of freshwater in case of natural disaster.
How a Think Water Rainwater Harvesting System Works
A simple water butt and diverter connected to a downpipe is used to collect runoff water from your home's roof. From there you can:
Store the water in a small tank and use it to water your garden for free,
Connect a larger tank to your washing machine, to flush toilets and to outside taps and irrigation. That alone can reduce your mains water usage by around 50%, or
Install a larger tank, a pump, filtration and UV sterilisation/treatment unit, to connect your rainwater harvesting system into your household plumbing for use indoors.
And, for those dry summers, we have pumps that will detect when the tank level is low and automatically switch over to town supply.
In general resource consent is not required. A range of tank shapes and sizes is available, as are above or below ground options. It's well worth giving us a call Contact Us to find out how much you could save on your water.
Find out more about how a Think Water Auckland rainwater harvesting system could save you money Contact Us.