Water Pumps
Think Water Auckland extensive range of water pumps includes pumps for most applications including:
Household water pumps,
Commercial water pumps,
Spa and swimming pool pumps
Irrigation pumps
Pumps for water features (any size), and
Bach water tank pumps (and filters).
Our water pump experience and expertise, partnered with the finest suppliers and manufacturers, means you can be confident in giving us a call.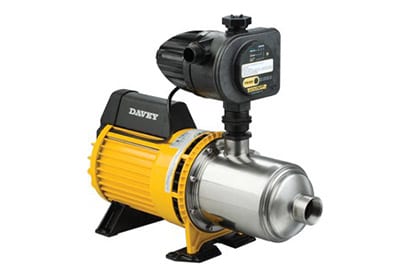 What Sort of Water Pump do You need?
Most people come to us knowing they need to pump water, but with little idea of the type or size of pump required for their situation.
As one of Auckland's leading pump specialists, we're here to help. We can provide all the helpful advice and guidance needed to help you purchase a water pump that suits your specific situation.
We specifically recommend Davey and Grunfos Pumps.
Water Pump Installation and Repair
As well as a wide range of water pumps for sale, we install and repair most types of water pump – from the smallest spa pool pump to the largest commercial water pump.
We also carry a full range of replacement parts for all the water pumps we sell.