Commercial Water Filtration
Water quality is a must. Whatever your need, Think Water Auckland can supply and install a suitable water filtration system in your home or business.
From a simple under bench water filter for taste and odour problems in the staff canteen, through to a more complex UV purification system for rainwater systems, we will have a water filter for your commercial property.
The correct water filtration system will ensure water that is:
Pure for drinking,
Odour free,
Great tasting, and
Top quality.
If you have concerns about the water quality at your business, farm or sports club, give us a call Contact Us.
To read about Home Water Filtration, click here Water Filtration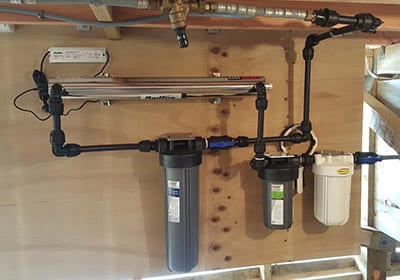 Water Filtration and Purification Systems
Everyone wants clean water the way it should be – that's why we recommend the Puretec and Microlene range of water filters and systems, they are New Zealand's the best choice in water filtration products.
We offer a full range of commercial water filtration and purification systems, including:
Water filter jugs
Point of use / under the bench filtration
Whole house/business filtration, and
UV filtration / purification systems.
Water Filter Jugs
The Aquado water filter jug is a cheap and efficient way of filtering staff kitchen tap water to remove impurities and improve the taste.
Point-of-Use Filtration Systems
Point-of-use water treatment devices are designed to treat small amounts of drinking water – ideal for staff kitchens or canteens. These devices can sit on the counter, attach to the faucet, or be installed under the sink.
At Think Water Auckland we supply undersink water filter packages to ensure you have water that is great tasting, chlorine free, and on tap 24/7.
We also carry a full range of replacement cartridges and parts.
Point-of-Entry - Whole Property Filtration Systems
Point-of-entry treatment devices are installed on the water line as it enters a business meaning all the water in the building is treated.
Imagine every tap in your home or business delivering water that is chlorine free, odour free, and tastes great.
UV Filtration / Purification Systems
For businesses, farms and rural properties that utilise rainwater for everyday use, an effective filtration system is a must. UV water purification is environmentally-friendly and chemical free. It's a natural process that adds no chemicals and does not affect the taste or odour of water.
Find out more about a Think Water Auckland commercial water filtration system for your business or rural property. Contact Us