Grundfos CME Booster Pump
---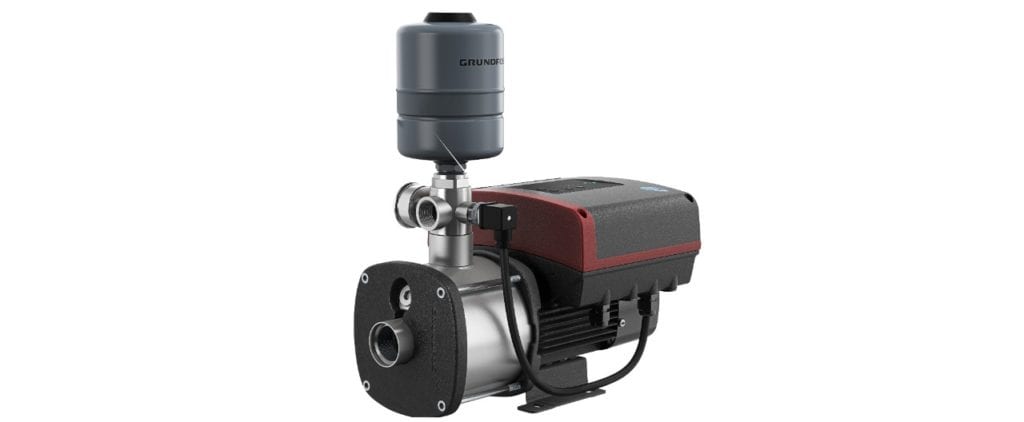 CME Variable Speed pump for use in domestic and light industrial applications
Product Description
A variable speed pump that adjust accordingly to water demand, resulting in lower running costs. All wetted components are constructed from high quality stainless steel ensuring, the water quality is not affected by pump materials. The pump will provide constant pressure at the tap (up to pump capacity), regardless of variation in demand or inlet pressure.
Applications
Mains water pressure boosting
Rainwater supply from above ground water tanks
| Features | CME Booster |
| --- | --- |
| Frequency controller | Yes |
| Stainless steel wetted components | Yes |
Features and Benefits
Robust design
All wetted parts are made from high quality stainless steel to ensure the longest life possible.
Easy installation
The CME Booster is very easy to install. Once the booster has been connected to the pipework, it is simply a matter of putting the plug into a socket, and the system is operational.
Quiet operation
The CME Booster operates quietly, at around 55 decibels, significantly quieter than most pumps currently available on the market.
User friendly interface
The user-friendly interface features LED indicators showing operational status and buttons for pressure adjustment.
Protective features
The CME Booster features dry run protection to automatically stop the pump if the water source runs out. The pump is also protected against any accidental overload by built-in thermal protection. These protective features help to ensure thelongest life possible.
Product Enquiry